Great customer reviews often have more impact than any other marketing initiative.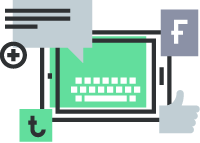 Why Great Customer Reviews Are Important
Surge Marketings' review management specialists help you communicate with your customer base and grow online reviews. In the process, we gather valuable customer feedback to help you improve your business. Monitoring and responding to those reviews is also important — not only to address misunderstandings but also to show that you care about your customers' experience.
When you earn positive customer reviews, you build trust and confidence in your brand, drive more traffic to your website, and increase the likelihood that visitors will contact you or make a purchase.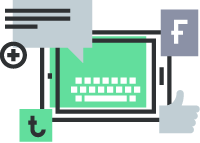 2-Step Customer Reviews Program
Great reviews help your brand in reviews sites and in local search and Google local packs. We can also embed the reviews on your website with links to the actual review. This is a trust factor for visitors making decisions onsite. Reviews on Google, Facebook and other sites add credibility and allow you to compare favorably to competitors. Our review management service saves you the time it takes to do something successful businesses need to do: encouraging reviews and following up on them.
Step 1: Increase Real, Positive Customer Reviews
Multi-Channel Communication
We reach out to customers with multi-channel review acquisition campaigns. In addition to email, we can also send text messages, send postcards for direct mail or provide smaller cards for your reps to hand out as they complete a service. 
Reviews Where You Need Them, When You Need Them
Surge improves reviews on Google, Facebook, and other platforms where you need them most. We'll also increase reviews at a reasonable frequency. 
Encourage Feedback and Problem Resolution
We can proactively catch negative customers and encourage them to provide feedback, hopefully recovering their business.
Step 2: Review Monitoring and Listening
Review Monitoring and Response
Using "Command Center" software, Surge monitors and responds (or alerts you to respond) to reviews and monitors the status of issue resolution. Our experienced team can provide a tactical response appropriate for the circumstances. 
Reporting
We provide data and analysis on your reviews and ROI. 
Amplify Happy Customers
We'll showcase positive reviews on your site, and elsewhere to drive visibility in search.