Whether you're a small startup or a Fortune 1000 company, pay-per-click advertising can help you get customers immediately. Surge Marketings' proven PPC management services give you immediate visibility in Google and Bing search results. That means immediate leads and customers.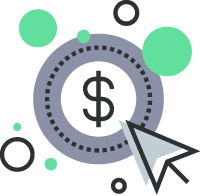 Pay Per Click Advertising Delivers Fast Results
If you don't appear in Google's search results, you're losing customers to competitors. SEO is a great long-term growth strategy for most companies, but it isn't a quick solution for visibility in Google. Fortunately, about 63% of users say they click on Google Ads.
That's why PPC marketing is a powerful option for immediate results. ⁠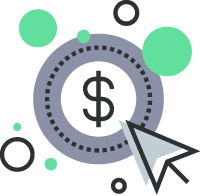 PPC Management Services
Effective pay per click advertising depends on skill, experience, and a thorough understanding of your business and customers. Your campaigns should be customized to your needs and created with your clients in mind. Surge Marketing knows your local audience and goes to great effort to ensure that we understand your business. Here are the services that support our clients' PPC advertising campaigns.
PPC MANAGEMENT
Google Ads and Microsoft Advertising are constantly evolving. They need constant attention, not "set it and forget it". Surge Marketing manages client accounts with the utmost care and expertise. We never outsource resources overseas or allow specialists to juggle 100 client accounts. We want long-term partnerships⁠—treat your ad spend as carefully as we do our own.
PAY PER CLICK SETUP & AUDIT
Whether you're starting a new PPC campaign or just need help managing and improving an existing one, Surge gets started swiftly, yet carefully. We begin the process within a week in most cases. Our tested process has checks and balances to prevent mistakes and wasted funds that are common in the early phases of paid search campaigns.
Surge Marketing makes sure your listings are complete and have thorough and accurate information. For larger companies with many locations, we manage your account with software that helps us maintain all of these listings for each location in an organized, accurate, and strategic way. As you add or move locations, make changes to your name or phone number, we help you adjust citations accordingly.
COMPETITOR & KEYWORD RESEARCH
Anyone can start a pay per click campaign, but proper research and strategy help avoid wasted funds and slow starts. A great PPC agency will go to great efforts to learn about your business, your goals, and your competitors. We also perform exhaustive keyword research. This helps Surge find the right keywords for your audience and get the most for your budget.
AD CREATION
Once we have the information we need, we compose your ads. It seems simple, but your ads themselves are critical to your success. They must quickly (1) provide accurate information, (2) encourage clicks from your audience, and (3) discourage clicks that are unlikely to result in sales.
LANDING PAGES
Bringing visitors to your site is only part of the sales equation. As your ad spend grows, your landing pages' ability to convert users becomes more and more important. Surge maximizes the odds that visitors do what you want them to — contact you, make a purchase, or supply information. We can do this by selecting or creating landing pages relevant to the ad and by including great content and calls to action on these pages.
TRACKING AND A/B TESTING
PPC agencies with tiny fees set up your campaigns and then "let them run". We actively work to perfect your campaigns so that ROI increases over time. We use A/B testing, analyze data, and tweak our strategy routinely. Advanced tracking methods help us understand where prospects come from and how they behave on your site so that we can make changes to improve results.
REPORTING & COMMUNICATION
Surge Marketing is a completely transparent PPC company. We stay in constant communication with you about your campaign performance and recommendations. You'll have access to your data at all times and with the help of your PPC manager, you'll always know your current spend and allocation. You will own your account and can pay Google directly. We don't hide charges or "skim off the top".