Case Study
Learn how Surge helped a small home care company in St George, UT increase revenue by over 400% in less than 3 years.
RESULTS MAY VARY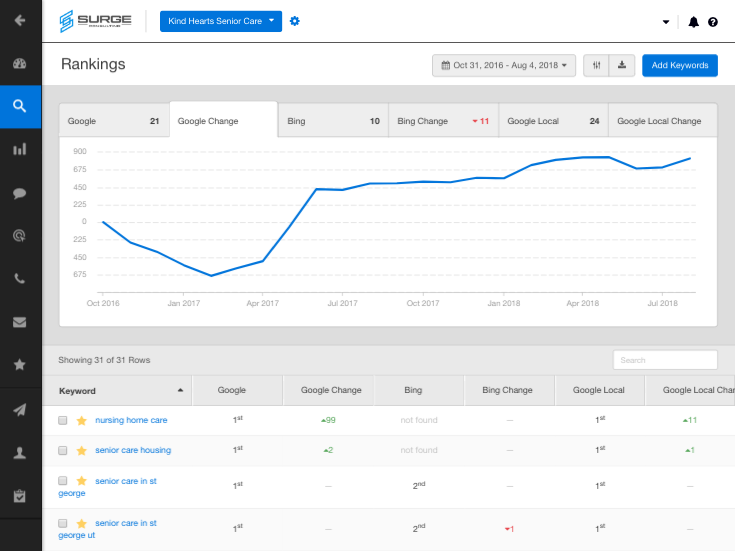 Project summary
Kind Hearts Senior Care came to Surge looking for help implementing an effective SEO strategy and PPC campaign.
The Strategy
After meeting with Kind Hearts Home Care, we knew that with the right SEO and online marketing approach, their rankings would increase rapidly. We started with detailed research on keyword and search trends for their industry in the local area. We then ran an audit on the site in order to see the areas that needed the most attention. This allowed us to create a plan to most effectively implement an SEO strategy that included but not limited to:
Onsite Optimizations
Add relevant content to the site to increase word count and keyword density
Optimize images and page speeds
Generate monthly blog posts in order to add content
Implement technical SEO on the backend with structured data
Optimize Google Local page with images and correct content
Create templates to generate google reviews
Create conversion funnel
Optimize and manage Google Ads campaigns.
Increase conversion rates and decrease cost per click on Google Ads.
Proven Results
By implementing a balanced and effective SEO & PPC Strategy we were able to achieve remarkable results in a relatively short amount of time. Our focus started with designing the website to convert better when people visit the site, then we worked on optimizing the site to follow SEO best practices which enabled it to improve its ranking on Google Search by over 1,000 spots over time. While we worked on that we also initiated a more refined PPC strategy and increased the traffic there without increasing the budget being spent. With all three areas being made more effective it generated the following statistics:
Revenue From Online Referrals
Revenue From Online Referrals
Total Revenue Before Surge
Total Revenue After Surge
Organic Traffic Before Surge
Organic Traffic After Surge
Paid Traffic Before Surge
Paid Traffic After Surge (Without Increasing Budget)
Average Website Traffic Per Month Before Surge
Average Website Traffic Per Month After Surge
How We Can Help Your Business
We can help implement a similar digital marketing strategy on your senior care business as well. We will build a custom marketing strategy that will strengthen the areas that are in need and reinforce your current strengths. By doing so, the results will come and your business will see a large return on investment. The results may not come immediately or even as quick as described above, but as we follow Google's Best Practices and implement a consistent pattern of work you will increase your ranking, generate more traffic, and that will lead to more leads and more revenue for your business.
Our Pricing Plans Range From $300-$500 per month and include monthly reports so you can see the results each month and know your money is being spent effectively.
"I would highly recommend Surge Marketing to anyone who needs help with SEO, Ad Words or overall online marketing! It was really only a few months until I found myself #1 on most google searches for my industry. They always communicate their plans and have your best interest in mind. Any business owner who is looking to have their business grow online should use Surge Marketing!"
Free Website Audit!
Use our free audit tool to see how we can help to improve your online web presence.